This is the book the silent film fan has been waiting for: a directory listing virtually every feature film produced in the U.S.A. during the silent era. And it's illustrated!
Navarro's Silent Film Guide has more information on silent film here than any other book within a single cover, and will be a valuable resource for fans and researchers for years to come.
This book chronicles the world of film before the appearance of talkies. There was no dialogue, no screeching tires, no loud gunshots, no ear-splitting sound effects. All you had was the art of the photoplay, there on the screen before you, and sometimes a friendly pianist or organist to provide a bit of mood music.
Far from feeling deprived, however, the audience thought silent movies were wonderful. Now that we've had more than 75 years of sound pictures, we are starting to see why. Silent movies represented a complete art form and the audiences liked them as they were.
For more than 30 years, going to the movies meant sitting in a darkened auditorium or converted store, and marveling along with others at the moving images on the large screen. You listened to the actors' voices in your heart. It was a very intimate art form.
CHARLES FARRELL and JANET GAYNOR were one of the silent screen's most popular romantic couples… in spite of the fact that only three of their twelve pictures together were made in the silent era. This still is from 7th Heaven (1927).
Source: here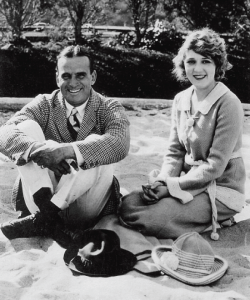 DOUG AND MARY (1922). In the silent era, no one had to ask, "Doug and Mary who?"
The athletic Douglas Fairbanks, with his robust swashbucklers and tiny Mary Pickford,
with her piquant comedies and dramas, were the most popular couple in pictures. They
were, quite simply, the King and Queen of Hollywood–and they wore the mantle
gracefully.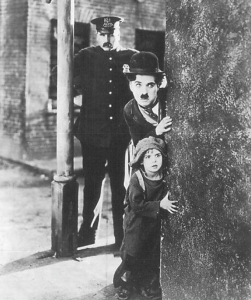 THE KID (1921). Charlie Chaplin and the six-year-old phenom, Jackie Coogan, are warily
looking out for the law—unaware that "the law"—in the person of 6-foot-two-inch Tom
Wilson—stands right behind them, eager for an arrest. Since Chaplin stood only 5 feet
five, he usually chose very tall actors to play his nemeses.